Car smashes into Wolverhampton conservatory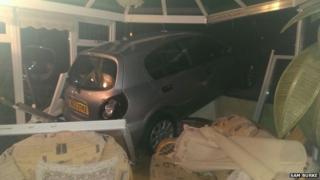 A car rolled off a car park and smashed into the conservatory of a house after its handbrake failed.
West Midlands Fire Service were called to Hall Lane, Wolverhampton, at 21:00 BST on Tuesday.
The family in the house were "lucky" not to be hit after the vehicle rolled 200 yards and ended up in their home, the fire service said.
Watch Commander Ade Cope said they "had just moved away from the conservatory" and could "have been badly hurt".
It took the recovery team almost two hours to remove the car from the remains of the conservatory.