West Bromwich car-jacking leaves elderly man with head injuries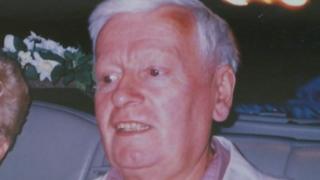 An elderly man was left with serious head injuries after a man knocked him against a wall whilst stealing his car.
Reg Stocking's blue Peugot 207 was taken outside his home in Chapel Street, West Bromwich, at 21:20 BST on Sunday.
West Midlands Police believe a man hid before jumping into the car while the 78-year-old opened his driveway gate.
The pensioner remains in hospital and police said they were still searching for the offender and the stolen car.
Det Con James Ashcroft said: "We believe it will have some damage to the front and rear end as it collided with the victim and a wall before driving off."
Mr Stocking was thrown backwards into a wall by the force of the collision, police said, and he was left on the ground as the thief drove off.
His wife Sylvia Stocking told the BBC: "I heard this bang and I went outside and one of my neighbours from down the street was with him.
"He was lying in the middle of the road, in a pool of blood, blood everywhere", she said.
Police said they were looking for a man over 6ft (1.82m) tall and of stocky build, seen "lurking" near Chapel Street and Old Meeting Street at about 21:00 BST.