Name change for Park View Academy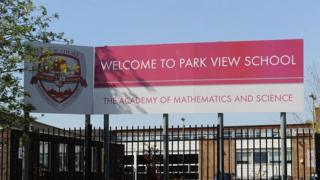 A school which was part of the "Trojan Horse" inquiries is to change its name to help it "move forward".
From September, Park View Academy will be known as Alum Rock Academy.
It was one of five schools in Birmingham - three of which run by the Park View Education Trust - put into special measures last year.
It followed a series of official investigations into a supposed plot by a conservative group of Muslims to take over schools in the city.
Inquiries found most of the claims made in an anonymous letter concerning the Trojan Horse "plot" to be groundless.
'Sense of belonging'
However, an Ofsted investigation released in June criticised leadership and the safety of pupils, saying the school had not effectively raised students' awareness of the risks of extremism.
In a follow-up inspection in February, inspectors said the school was making "reasonable progress", but remained in special measures.
Based in Alum Rock, the new name was chosen after a consultation with pupils, parents and staff.
In a statement, Executive Head Adrian Packer and Waheed Saleem, chair of directors, said it would help create "a proud sense of a belonging" and pupils would receive new uniforms free of charge.
Park View Education Trust was itself recently renamed the Core Education Trust.