Benefits Street's Black Dee 'ran an open house'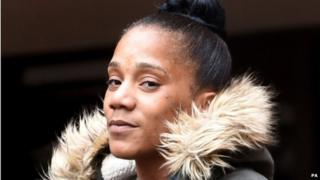 A resident of TV's Benefits Street who denies being part of a drugs operation ran an open house, a court heard.
Samora Roberts, 33, who was known as Black Dee in the Channel 4 show, is one of six defendants who deny charges of conspiring to supply crack cocaine, heroin and cannabis.
Ms Roberts also denies two counts of illegally possessing ammunition.
She told Birmingham Crown Court "everyone comes to my house on day-to-day activities".
She also said she did not know anything about the cocaine.
Pink shoe
Ms Roberts lives in James Turner Street, Winson Green, Birmingham, which was the subject of a controversial Channel 4 programme in 2014.
Three other residents of the street, Tina Thomas, 47, Charlene Wilson, 31, and Ian Wright, 39, are also standing trial following a police raid in June 2013.
Two further men - Omari George, 22, of Dora Road, Handsworth, and Marvin Scott, 38, of City Road, Edgbaston - also deny drugs charges.
The court heard officers raided homes in the street and found "quite significant quantities of drugs".
Police interview transcripts that were read out in court included Roberts' claim the cannabis police found in her home was for her own use.
She told police: "I put my hands up for what was in my possession, but nothing else - just no."
When asked about the ammunition - found wrapped in two socks inside a pink shoe in a washing basket in her back bedroom - she said she had no idea it was there.
She told the police interviewer she barely used the bedroom, calling it "a junk room".
"If someone was going to go lie down, they would lie down in the back room," she said. "Everyone comes to my house on day-to-day activities."
The trial continues.