Kings Heath coma man's mother appeals for help finding attackers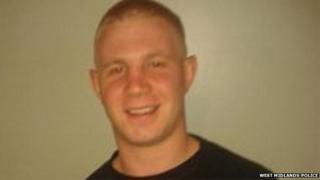 The mother of a man left in a coma after being assaulted after a New Year's Eve party has appealed for help in finding his attackers.
Jason Webb, 28, was attacked in Kernthorpe Road, Kings Heath.
He was repeatedly kicked in the head, leaving him in a coma for weeks and causing a severe brain injury, police said
His mother, Anita Larden, appealed for witnesses to "do the right thing" and contact the police.
"After he was beaten, he was left lying in the road for seven hours before being found, she said.
"The people who did this know who they are and there are people who have information."
West Midlands Police said a number of people had been arrested, but no-one has been charged in connection with the attack.
Det Sgt Indi Basra said it was a "vicious attack" that had left Mr Webb with "severe life changing injuries" including bleeds to the brain and a broken arm and nose.
"Jason remains in a rehabilitation hospital and needs constant care," she said.
His mother said he was a "sociable, fun-loving man, who enjoyed playing practical jokes and seeing his mates".
"I would never want anyone to suffer the way Jason has," she said.