West Midlands teacher stress absences rise by nearly 300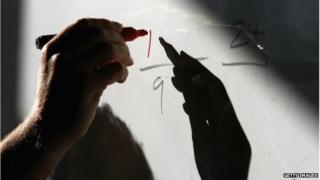 The number of teachers in the West Midlands signed off work because of stress or depression has risen by nearly 300 in five years, according to information obtained by the BBC.
A fifth of teacher and staff absences were due to stress. In Walsall, in 2013-14, almost half of the 10,369 days of staff illness were stress-related.
In Herefordshire, one member of staff was off for 16-and-a-half months.
Ofsted said it was "essential" schools helped teachers manage their workload.
'Provide appropriate support'
In 2010-11 in the region, 1,322 teachers were absent due to stress, compared with 1,596 teachers in 2014-15 - a rise of 274.
The total number of days lost to stress-related illnesses among teachers and staff in the past 12 months amounted to 110,824. Some staff members were off for more than a year.
In Herefordshire, one member of staff was off for 16-and-a-half months, while in Sandwell, a staff member was off for more than 22 months.
Herefordshire Council said the person was "not a teaching member of staff" and the specific details of the case were "not known".
"Head teachers are provided with the appropriate advice from HR in terms of managing absence," the council said.
In Walsall, over the past five years, the proportion of all days staff had off sick due to mental health-related illnesses was 35%, while in Coventry it was more than a quarter.
A teacher's story
Maths teacher Rod Bissett was working in a Birmingham secondary school in 2008 when personal worries began to affect his work.
He said: "My work issues were noticed by management and this was discussed with me in a series of meetings which were little more than half-hour-long shouting sessions.
"Eventually this led to me having panic attacks which stopped me from even being able to enter the building.
"On days when I did make it in, I was too emotional to be able to teach effectively.
"As a result I was signed off from work due to workplace stress and eventually I made the decision to hand in my notice."
In 2010, Mr Bissett returned to full-time work at a different school.
Most authorities declined to say how much the absences cost them, following a BBC Freedom of Information request, but in Solihull alone, staff absences due to stress over five years cost an estimated £1.3m.
Julian Stanley, chief executive of Teacher Support Network, which runs a helpline for teachers, said: "The typical calls we get are from people who are struggling with the balance of their work, or experiencing behavioural problems from pupils.
"In schools where there are issues about performance, there can be tremendous amounts of pressure put upon teachers."
Ofsted said it recognised "the stress and anxiety teachers can experience, particularly in schools that are not performing well".
In parts of the West Midlands, including Birmingham, Coventry, Dudley, Sandwell, Staffordshire and Walsall, more than 20% of schools are rated "need improvement" or "inadequate".
The Department for Education said: "It is vital schools have systems in place to help identify and limit stress for staff, and provide appropriate support for them."