Dying man gives daughter away in Sandwell hospital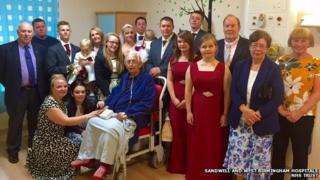 The daughter of a terminally ill man got married in hospital to grant him his dying wish of giving her away.
Sarah Atkins and Matthew Brown tied the knot in front her father Barry, and other family and friends, at Sandwell General Hospital in West Bromwich.
They had been planning to get married at a register office.
But the couple brought their big day forward after Mr Atkins, who has pancreatic cancer, was taken to hospital earlier in the week.
A special ceremony on Wednesday organised by the hospital allowed Mr Atkins to give away his daughter.
She paid tribute to staff at the hospital for their care.
'Very rare'
"I would also like to thank one nurse in particular, Alex Abbott, who... has been great in helping us through this whole situation, setting up the room for us and for also helping to care for my dad," the bride said.
The Rev Leonhard Cox, who conducted the marriage ceremony, said: "The most important thing to do was to keep the focus on Matthew and Sarah and remember that these two people are going to love and protect each other through all of life's trials and tribulations."
The hospital said it had staged weddings in the past, but it was "very rare" that it was not a patient getting married.
Sister Jody Stubbs said: "It has been a pleasure to be able to help and support the family to bring a few moments of happiness at such a difficult time.
"It warms my heart to see that their friends and family came dressed up to help to make the wedding as beautiful as possible."