Saltley recycling fire: Battery or metal spark caused blaze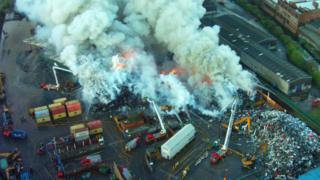 A spark from a vehicle battery or scrap metal ignited a massive fire at a Birmingham recycling centre.
More than 100 firefighters tackled the blaze at EMR in Clarel Avenue, Saltley, which involved up to 800 tonnes of mixed plastic, rubber and metal.
Crews were called to the scene at about 14:00 BST on Tuesday and West Midlands Fire Service said the last of them left on Thursday afternoon.
Fire investigators have now confirmed that the blaze started accidentally.
They said it was caused by "a spark from either a vehicle battery or metal, igniting combustible materials in the pile".
Smoke from the fire was visible for miles around the city.