Wolverhampton legal high 'epidemic' show criticised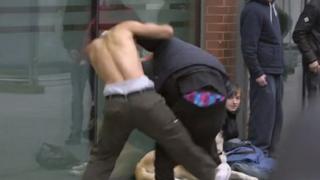 A documentary focusing on the use of so-called legal highs in Wolverhampton has been criticised by support groups and public health officials.
BBC Three's Drugs Map of Britain was described on BBC iPlayer as exploring a legal high "epidemic" in the city.
City of Wolverhampton director of public health Ros Jervis said there was no evidence the problem of so-called legal highs was worse than elsewhere.
The programme said some people featured "wanted to tell their story".
More on this and other Birmingham & Black Country stories
The first programme, Wolverhampton: Getting Off Mamba, followed homeless Liam, 27, who is addicted to Black Mamba.
Black Mamba is designed to mimic the effects of cannabis.
In the piece Liam claimed there were four or five shops selling the drug at £10 for a bag and £15 for two.
Ms Jervis said the show "did not reflect the resources and priority" given to the issue in the city.
"As a city we are trying to help users and act on the suppliers," she said.
And she highlighted the formation of a Tobacco and Substance Misuse Alliance which aimed to bring together the agencies tackling drug and substance misuse.
She said: "We've ensured that retailers are aware it is illegal to sell items where there are clear doubts about their safety."
---
'Legal highs'
Sold in a variety of forms including powder, pills, liquids, capsules and smoking mixtures. They can be smoked, snorted or swallowed
The substances are often sold in "head shops" alongside drug paraphernalia
Because they cannot be labelled as being for human consumption, they are often marketed as plant food, bath salts or incense
There were 97 recorded deaths from legal highs in the UK in 2012, rising from 12 in 2009, according to figures from the Centre for Social Justice
The independent think tank says the UK has the highest number of legal high users among young people in Europe
They are not currently covered by the Misuse of Drugs Act 1971 because drugs are classified as illegal by their chemical compounds. The composition of legal highs is often slightly altered so that the ban is avoided.
Does banning legal highs work?
---
Sunny Dhadley, from support group SUIT Wolverhampton, said: "Overall there was probably 50 or 60 hours worth of filming that was done that would have depicted some really positive stories from Wolverhampton.
"It's just a shame some of those weren't included in the final edit... What was missing was the actual support that was available."
Josh Haddow, associate producer of Drugs Map of Britain, said: "We've been up and down the country... We're looking at issues that are sort of either universal or it's also just stories that are in places.
"They wanted to tell their story. We thought we can't deny them a voice."
Mr Haddow said Liam had come off the drug and that was "an important message to get across".