Halesowen grandmother pinned to floor in 'horrific' burglary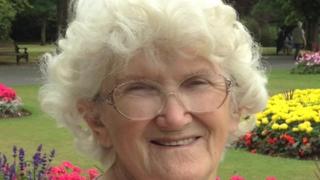 A 78-year-old grandmother was pinned to the floor while burglars ransacked her home in a "horrific" ordeal.
Three men burst into Joyce Bennett's house in Halesowen, West Midlands, before searching the property while one man held a gloved hand over her mouth.
They escaped with cash, a handbag and purses, police said. Ms Bennett was taken to hospital with a fractured arm.
Her daughter Helen Neville said her mother is now frightened in her home.
She said: "My mum is a really lovely lady, who is well-liked.
'Traumatic experience'
"It's been actually quite heartbreaking to see mum who's usually active and independent and a very sociable lady to feel very vulnerable and frightened in her own home.
"It has hit all the family really hard and I would ask anyone who has any information to contact police. Just think if was your own mother or grandmother who suffered such a traumatic experience."
She said her mother was still "in a lot of pain as a result of the injuries that she sustained".
West Midlands Police are appealing for information after the burglary, which happened last Wednesday evening.
Det Sgt Richard Narrowmore described the burglary as "horrific", and urged anyone with information to contact them.