Wolverhampton train tip-off text leads police to drug dealer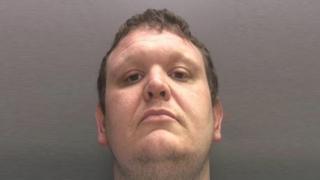 A drug dealer was caught carrying a kilo of cannabis on a train after a passenger texted police about a man who "smelled of weed" and was acting "on edge".
Following the tip-off, officers arrested Daniel Sheldon at Wolverhampton station.
The 33-year-old, from Stafford, also had £1,000 of cash on him.
He was jailed for 16 months at Wolverhampton Crown Court after admitting intent to supply cannabis.
Read more on this story and other updates from Birmingham & Black Country
Sheldon, of Sowdley Green, Wheaton Aston, was carrying the cannabis - which had a street value of £5,000 - in a large paint pot inside a bag.
British Transport Police received the tip-off via its 61016 text reporting line on the morning of 4 March.
PC Jamie Taylor said: "The passenger sent a series of texts letting us know what service Sheldon was on, his description and where he was getting off - meaning our officers were ready and waiting for him when he arrived into Wolverhampton railway station."