Dead monitor lizard found dumped near Birmingham park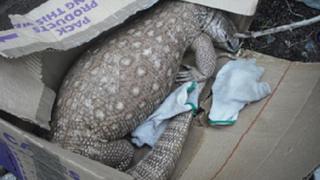 A dead monitor lizard has been found dumped by a Birmingham park.
The 3ft (0.9m) reptile, believed to have been an exotic pet, was discovered in Small Heath, on the edge of Hay Barn Recreation Ground, by a member of the public.
Due to its heavy weight, the creature may have been driven to the park in a car, the Birmingham City Council said.
The animal did not appear to have been injured before it died, and was not microchipped. It was later incinerated.
Updates on this story and others in Birmingham and the Black Country
Environmental health officers are investigating and checking CCTV footage in a bid to work out who had dumped the Bosc monitor lizard, sometime before 14.30 BST on Thursday.
'Disturbing'
The council said abandoning dead animals is illegal and can incur fines and jail sentences.
Jacqui Kennedy, from the council, said: "The discovery of a large dead lizard dumped as rubbish is not only unacceptable, it is disturbing.
"Due to its weight and size it may well have been transported by car, as it could not be carried very far.
"I am appealing to anyone who was in this area of Small Heath on Thursday to get in touch with any information."
Bosc monitor lizards are native to Africa and Asia.