Thousands at Birmingham's 20th Pride festival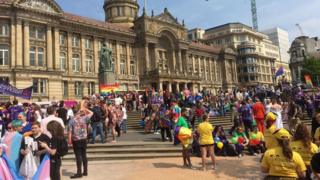 Thousands of people are attending the two-day Birmingham Pride festival, marking the event's 20th year.
Organisers said they expected about 50,000 people to take part in events over the weekend.
Festival director Lawrence Barton said the theme 'A Generation of Pride' aimed to mark achievements in LGBT equality over the last two decades.
Milestones have included marriage equality and equal age of consent, he said.
The event, which is centred in and around the city's Gay Village, features more than 100 artists and DJs.
Organisers say Pride 2016 also celebrates the development of Birmingham's own gay scene from a handful of venues to "one of the most popular in the country", with 15 diverse bars and clubs in the city's Gay Village.
The first Pride event in Birmingham in 1997 was staged outside the Nightingale Club and attracted several thousand people.