Window fears raised before Birmingham toddler's death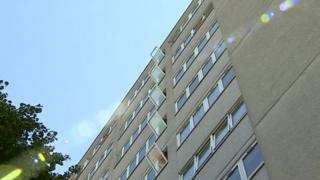 Concerns over window safety at blocks of flats where a toddler fell to her death had previously been raised with council chiefs, it has been claimed.
The 18-month-old girl fell from a seventh floor window at Ryland House, Hockley, Birmingham on Monday.
Councillor Ziaul Islam said he had previously spoken to the council about families' fears over windows.
The city council said "it would be inappropriate to comment" during the police investigation.
More on this and other Birmingham stories
Councillor Islam said: "I have had concerns from people living there that there are too many high-rise flats and it is unsafe for families with small children.
"They have no play area and are living on ninth or tenth floor flats so windows can be dangerous."
Vigil planned
The little girl's death is being treated as unexplained and a post-mortem examination is due to take place, West Midlands Police said.
Her parents, believed to be of Sudanese origin, are staying with friends.
Prayers are being held at Huda Community Centre on Friday, directly opposite the flats.
Charity leader Frederick Dzirasa said up to 500 worshippers are expected at the service.
He said they are "coordinating efforts to support the family", and a vigil is planned for Monday "to achieve closure".
Mr Dzirasa, who runs the Ascending Achievements charity, said: "The message [from residents] is unanimous - how was this allowed to happen?
"The windows [of the flat] open out quite a lot. Why wasn't there protection in place? Why was a family with a small child provided with such accommodation?"
In the aftermath of the tragedy, eyewitnesses told BBC News people were trying to catch the toddler after they saw her "fly out of the window", which was "wide open".
Birmingham City Council, which owns Ryland House, said in a statement: "We would like to express our sympathies at this terrible time but while a police investigation is ongoing it would be inappropriate to comment or speculate about the circumstances surrounding this tragic incident."