Rubbish 'not collected' as residents complain of 'awful stench' in heatwave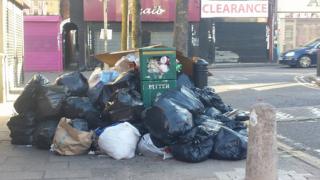 Piles of rubbish are mounting up in the streets at the hottest time of the year because collections have not taken place for weeks, residents claim.
Pictures of bags of waste outside homes, shops and restaurants on the streets of Alum Rock, Birmingham, have been posted online.
Concerns have been raised about the risk of rodent problems and the "awful stench" around the streets.
Birmingham City Council said it is examining if collections were missed.
A spokesman said it is in the process of also cleaning up the area.
More on this and other stories from Birmingham and the Black Country
Wajid Hussain, secretary of the Alum Rock Community Forum, has been taking pictures of heaps of bags around the area.
He says rubbish hasn't been collected for at least two weeks.
"We've not had anyone taking responsibility for it," he said.
"The council have been promising to do something about it but nothing's changed."
John Bahir, who owns Care Pharmacy, said he has written to the council "three or four times" about problems with rubbish collections.
"We haven't had any issues with rats or rodents yet, but it's only a matter of time," he said.
"There's been an awful stench, especially in this heat. It's like dead animals."
A council spokesman said the rubbish on the streets included fly-tipping, adding it will take action against anyone dumping rubbish in public areas wrongly and is open to working with community groups.
"The rubbish dumped in this area appears to have been a mixture of trade waste, rubbish from homes above business premises and the irresponsible activity of fly-tippers," they said.
"We agree with concerned residents that rubbish not presented for collection in the right way, or disposed of properly, is completely unacceptable."