Tipton Victoria Cross winner honoured with memorial stone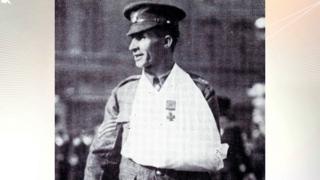 A World War One soldier has been honoured 100 years after he "demonstrated immense bravery".
Cpl Joseph Davis is the only Victoria Cross (VC) winner to be born in Tipton in the Black Country, the local Royal British Legion branch said.
Wounded himself and with eight injured officers, he led his reserve to safety in the Battle of the Somme.
A commemorative paving stone was laid at Victoria Park, with celebrations including a military band and parade.
Cpl Davies, a Royal Welch Fusilier in the British army, received the VC from King George V for his bravery at Delville Wood in France, on 20 July 1916.
'Above and beyond'
Separated from their company, he and eight men were surrounded in an enemy counter-attack.
Cpl Davies got his men into a shell hole and fought the attackers to join up with the rest of the company.
Mark Keeling, from the Tipton Royal British Legion, said: "This is the only memorial of its kind in Tipton because he was the only VC winner born in Tipton.
"He went above and beyond his duty, demonstrating immense courage and bravery to fight off the Germans twice."
Cpl Davies rose to the rank of staff sergeant and moved to Dorset. He died in Bournemouth, aged 86, in 1976.
Family from Dorset and the Black Country were present at the unveiling of the memorial stone.
A plaque in Tipton commemorates VC winner Pte Thomas Barratt, who was born in Coseley but lived and worked in Tipton, according to the Express & Star.