Liver cancer 'super vaccine' on trial in Birmingham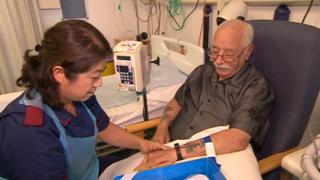 Doctors have taught blood cells to recognise liver cancer in a revolutionary combination treatment.
The "super vaccine" fights the disease while patients receive chemotherapy as well.
The trial is being run by The University of Birmingham and therapy is being carried out at Birmingham's Queen Elizabeth Hospital.
Liver cancer is notoriously hard to treat and although rare it is on the increase, the hospital doctors said.
The therapy is under way after five years of regulatory checks took place.
Dendritic cells, which are designed to flag-up diseases attacking the body, were manufactured in a purpose-built laboratory and mixed for eight days with proteins that the cancer uses to hide.
David Beddis, 70, from Hereford, was the first patient to undergo the treatment.
The first batch of cells were injected directly into his tumour through an artery, with follow-up infusions going into his blood stream.
Once injected, the cells are intended to help the body's immune system target and destroy the cancer cells.
Seventy patients will undergo the trial, with half receiving just chemotherapy and the others also receiving the dendritic cells vaccine.
Dr Yuk Ting Ma said: "Normally, dendritic cells vaccines have been given to patients with far more advanced stages of liver cancer where the immune system is far more exhausted.
"Now we're bringing in patients with intermediate level cancer to see if boosting their immune system will boost the overall response of treatment."
The trial, funded by the National Institute for Health Research and Medical Research Council, has taken five years to pass all the regulatory challenges.
The stem cell laboratory was first used in 2016 after many teething problems. It was originally due to open in 2012.