Prayers held after girl dies falling from flat window in Birmingham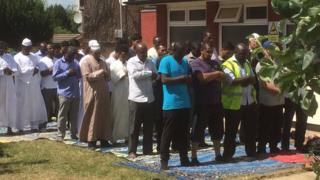 Prayers have been said for an 18-month-old girl who died after falling from the seventh floor of a tower block.
The toddler fell from Ryland House in the Hockley area of Birmingham on Monday.
West Midlands Police, which is investigating the death, said she died as a result of a head injury consistent with a fall.
The council said a safety mechanism check on windows after her death showed they were in "full working order."
More from Birmingham and the Black Country
Friends and family of the girl, who has not yet been officially identified, gathered at the Huda Community Centre in Newtown, opposite the flats, on Friday lunchtime.
Her parents, believed to be of Sudanese origin, have been staying with friends since the incident which happened at about midday on Monday.
About 150 people attended the ceremony to say prayers.
Families living in the building had previously raised concerns about window safety with the council before the girl's death.
Det Sgt Neil Hunt has appealed to anyone who witnessed the "tragic" incident to contact them.
"We are appealing for anyone who saw anything leading up to the tragic death of the child to get in touch," he said.
"Our thoughts go out to the family who are being supported by specially trained officers at this difficult time."