Paul Abbott 'murdered wife in row over Elvis tribute act row'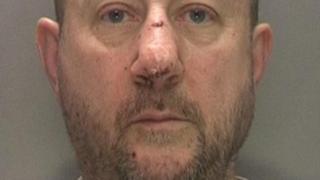 A gambling addict has been jailed for life for beating his wife to death with a hammer in a row over tickets to an Elvis tribute act, police say.
Paul Abbott became angry when he heard about estranged wife Jacqueline's night out and that she had sold his ticket.
He hit her with a hammer at the family home in Netherton in Dudley in December before killing in the back garden.
Abbott, 57, who previously admitted murder, silenced a panic alarm she activated during the row, police said.
More updates on this and other stories in Birmingham and the Black Country
The couple became estranged last year after Abbott, who had a history of domestic violence, "broke a promise" to curb his gambling habit, spending £11,000 in a casino.
But police said he confronted his wife at home in Lodge Crescent after discovering her plans and a row erupted when she said she had sold his ticket.
A post-mortem examination showed he struck her at least 16 times.
The panic alarm was later found to be covered in blood, police said.
He admitted murder at Wolverhampton Crown Court in March and was sentenced to a minimum of 15 years on Tuesday.
Det Insp Justin Spanner, senior investigating officer, said Mrs Abbott, 54, was preparing to leave the relationship and said her death was a "tragic case".
He said Abbott told police it was "a red mist moment" and he loved his wife.
"This was not a loss of temper or a split-second loss of control - Abbott pursued Mrs Abbott down stairs, stopped to deactivate an alarm, and then struck her twice more in the garden," he said.