Birmingham terrorist misled police over travel plans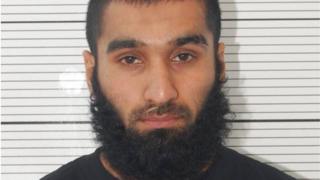 A terrorist suspected of trying to go to Syria has been jailed for misleading police over his travel plans.
Ishaaq Hussain, 24, was jailed for 40 months in July 2012, after admitting he attended a training camp in Pakistan.
After his release, Hussain was required to notify police if he planned to go abroad, but admitted failing to do so three times, the Old Bailey heard.
The father, from Washwood Heath, Birmingham was jailed for 20 months for the "deliberate and serious breach".
Hussain, of Chetwynd Road, pleaded guilty to failing to notify police of foreign travel plans between January and March of this year.
He had claimed to be planning a family holiday in Italy with his wife and young child, but did not say the trip, which was twice postponed, also included Greece and Turkey.
When he was stopped by police on his third attempt to leave the country, he was travelling alone, the court heard.
Sentencing, Mr Justice Saunders said Syria was the suspected destination as Hussain would not have been able to catch his return flight from Italy had he visited Greece and Turkey.