Woman, 88, in back of stolen Stourbridge getaway car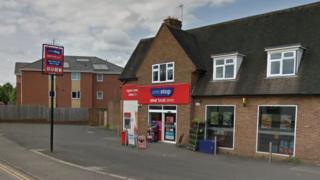 Armed raiders stole a family car with an 88-year-old woman in the rear passenger seat.
Two hammer-wielding men took the Ford Mondeo, also containing a 37-year-old woman, following a raid on a One Stop convenience store in Stourbridge on Sunday.
They stole the car after their original getaway vehicle stalled, West Midlands Police said.
Both women were dumped by the roadside "several yards further on".
Latest updates, plus more Birmingham and Black Country stories
Sgt Rich Narrowmore said: "The younger woman was slightly injured and both of them were terribly shaken by their ordeal, so we are keen to trace these men as soon as possible."
The raid took place on the Hungary Hill store shortly after 21:00 BST.
After failing to escape in a silver Volkswagen Golf, they took the Mondeo when the driver left the vehicle to use a cashpoint.
Police believe the same men raided a Co-op in Glebe Lane, Norton, less than an hour before.
They threatened staff with hammers and stole cash and cigarettes in both robberies.
The stolen Mondeo was later recovered in Bromley Street, Lye.
Sgt Narrowmore said: "These were violent attacks with little thought for their victims and they need to be brought to justice quickly."