Birmingham bin strikes: Costs and losses in the dispute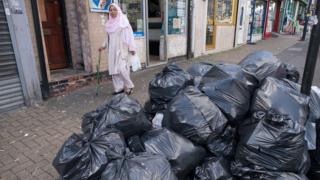 The row between Birmingham City Council and its refuse workers has been costing an estimated £311,000 a week. How is that hitting the pockets of taxpaying residents and the striking workers?
The cost of the dispute
The city council is "deleting" 113 posts to save money, blaming "significant financial challenges" for the shake-up. Refuse workers have spent weeks on a series of rolling three-hour strikes and the rubbish has been piling up. And so have the costs, now estimated at £311,000 a week.
A report to the council's cabinet says the cost started at £21,000 a week in July but has risen due to the authority bringing in external contractors to clear rubbish. It warns of an "additional pressure" on the council's finances for 2017-18.
The council says its budget for waste management has fallen from £71m in 2011 to £65m and it has to balance its costs.
The shake-up is meant to save £5.2m a year.
Are taxpayers entitled to a rebate?
Households in Birmingham pay about £30 a year each through the council tax to have their bins emptied.
However, despite the disruption to services, the city council is not planning to offer any refund.
On its website the council said: "Council Tax is not paid to fund a particular service and there is a legal obligation to pay. It's also important to understand that the cost per household for each weekly collection is about 92p - for all refuse and recycling collections." That would make the total cost per household about £48 a year.
Since the strikes resumed in September the council has updated the website. It has said the amount funded by council tax is about 56p per week per household.
Volunteers clear rubbish from Birmingham's streets
Costs of council services
£3bn
Annual gross cost of Birmingham City Council services
£271m
comes from council tax (about 10%)
420,000 households have their bins emptied by the council

18.5m cost of waste management

£1,438.45 Band D council tax bill for 2017-18

£29.12 of this goes towards waste collection
The Council House in Victoria Square. Photo: PA
What the workers get paid and how much they lose
As well as deleting 113 supervisory roles, the council plans to create about 200 collection jobs for "loaders". This will help it reduce its reliance on agency workers, who cost more to employ than permanent staff.
The refuse staff currently work a four-day week of nine-hour shifts, but the council wants to change it to five days a week of just over seven hours a day.
The Unite trade union says workers affected by the planned changes could lose £3,500 to £5,000 a year.
The council insists alternative jobs in other parts of the council are available for workers at the same salary.
About 880 people work for the council's fleet and waste management service.
What bin workers are paid
And what they lose by striking
£19,000
Average annual pay for affected bin workers, according to Unite
£30
Approximate amount docked for a three-hour strike
£5,000 What Unite says some staff could lose under planned changes

113 roles to be scrapped

200 jobs to be created
Getty Images
Birmingham bin strike: Report warns deal 'unaffordable'
How Birmingham does poorly at recycling
Birmingham has one of the lowest rates of recycling in England, coming 341st out of 351 authorities.
Less than a quarter of all household waste ends up being re-used, composted or recycled. That compares with over two-thirds of rubbish collected in South Oxfordshire, which had the highest rate in 2015-16.
The council has said it wants to modernise its waste service to be "as efficient as those run by other councils".
Birmingham's recycling record
415,033
tonnes of waste collected from homes
22.9%
was recycled, composted or re-used
61,745 tonnes recycled

33,190 tonnes of garden waste composted

9 councils out of 351 in England recycle less
Getty Images