Bin dispute: Government's improvement panel to remain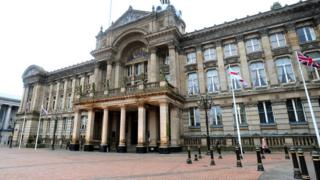 A government-led panel tasked with overseeing improvements at Birmingham City Council will continue in place due to the ongoing bin dispute.
The panel had said it would stand down after being satisfied the council could continue under its own steam.
But in light of the bin strike, panel chair John Crabtree said it would now "remain in place".
The city's Conservative opposition leader said things were "worse now than they have ever been".
There had been "a serious setback" to the progress the panel reported in August, chairman John Crabtree reported to the government.
See more stories across Birmingham and the Black Country here
The council is handling "an industrial dispute" that is causing "major inconvenience to the city's residents," he said.
He concluded that having met with interim council leader Ian Ward and Stella Manzie, the council's interim chief executive, it was agreed that it would be "helpful" for the panel to remain in place, "until it can demonstrate that the changes in culture and governance still required are truly embedded."
Leader of the Opposition Cllr Robert Alden said: "After five years of Labour running Birmingham, the Improvement Panel have made it clear things are worse now than they have ever been.
"The Labour legacy of the last five years is to have driven our city off a cliff and to jump off while we are in free fall."
On Monday, the Unite union said the strike over job cuts could last another 12 weeks after a vote by bin workers.
Ian Ward said he would continue to work with the panel.
The panel was set up in 2014 following an inquiry into the so-called Trojan Horse letter and struggling council services.