Police probe homophobic chants at Aston Villa match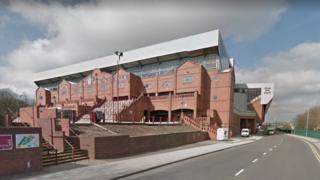 A football fan says she was reduced to tears after being subjected to homophobic abuse at a match at Villa Park.
Middlesbrough fan Carol Smith said a handful of fans chanted at her for half an hour as she watched her side play Aston Villa with her wife Stacey on Tuesday.
West Midlands Police is investigating, but said no arrests have been made.
The force said: "Some people were spoken to and their details taken."
Mrs Smith, 35, from Birmingham, said she was sat in the away stand next to the home fans in the North Stand when "they [the home fans] just started picking on me".
'Heartbreaking'
"I laughed it off first time and the second time, but it turned out to be for 30 minutes continuous that they kept singing it so I just got a bit upset."
She said the treatment had put her off attending future matches.
"It took away the win, I came out of there and felt like we'd been battered 10-nil, I was really deflated," she added.
"It's just so heartbreaking to hear it."
Middlesbrough won the Carabao Cup third round match 2-0.
The BBC has contacted Aston Villa for comment.