Matthew Falder posed as female artist for online sex attacks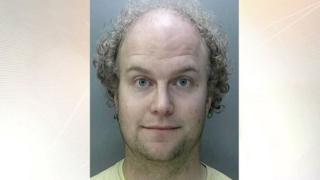 A man said to be among the UK's worst paedophiles blackmailed people online into carrying out "degrading" sexual acts, a court heard.
Cambridge graduate Matthew Falder, 28, admitted more than 100 offences, including encouraging a teenager to rape a four-year-old boy.
Falder contacted 50 victims online over seven years, posing as a female artist, and sharing images on the dark web.
It took about 30 minutes to list the offences at Birmingham Crown Court.
'Hurtcore' charges
Falder, of Edgbaston, Birmingham, a former geophysicist researcher at Birmingham University, admitted 137 charges, and denied another 51 which will remain on file after his not guilty pleas were accepted by the prosecution.
The number of offences makes him one of the country's most prolific paedophiles, BBC Home Affairs Correspondent Danny Shaw said.
Falder's case is said to be the National Crime Agency's first successful so-called "hurtcore" prosecution. Hurtcore relates to hidden forums on the dark web dedicated to sharing images and videos of rape, murder, sadism, torture, paedophilia, blackmail, humiliation and degradation.
Midlands Live: Cyclist killed in bus crash; boxing brawl stab victim named
His victims were offered money in return for sending him naked photos, the court heard.
Falder used the online names "666devil" and "evilmind" on websites such as Gumtree. He then blackmailed his victims into sending increasingly obscene images.
He also admitted charges of causing the sexual exploitation of a child, encouraging the rape of a four-year-old, making and distributing indecent images of children and voyeurism.
Images that Falder shared included photographs showing children and babies being tortured, the court was told.
Ruona Iguyovwe, of the Crown Prosecution Service described Falder as "highly manipulative".
"He clearly enjoyed humiliating his victims and the impact of his offending, which carried on over several years, has been significant," he said.
'Deeply shocked'
Matthew Long, head of operations at the NCA, thanked the victims for their bravery in coming forward.
Falder is expected to be sentenced on 7 and 8 December.
A spokesman for the University of Birmingham said: "The university is shocked to hear of the abhorrent crimes committed by a former post-doctoral researcher.
"We have no reason to believe that the offences are in any way connected with the university."
A University of Cambridge spokesperson said Falder was a student there between 2007 and 2016.
"We continue to offer support to anyone who has concerns about the case," they added.
Gumtree 'full support'
"The university is deeply shocked and saddened by this case."
Gumtree, which was named in the court case, said it was pleased that Falder had been brought to justice.
"Gumtree simply does not tolerate the exploitation of users or the illegal misuse of our platform," a spokeswoman said.
"… Our dedicated safety team has lent its full support and co-operation to the NCA in their investigation of this case, which has been active for several years. Gumtree takes the safety of its users extremely seriously and we are committed to making the site as safe as possible."