Kenichi Phillips murder: Woman jailed for assisting an offender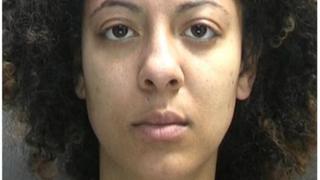 A woman who let a teenager's murderer stay in her home has been jailed for six years for assisting an offender.
Shaleana Samuels allowed Isaiah Wright-Young to live in her flat in Dudley, West Midlands, after the killing of an 18-year-old in a turf war over drugs.
Kenichi Phillips was shot as he sat in a parked car in Ladywood, Birmingham, in March last year.
Samuels, 25, pleaded guilty at Birmingham Crown Court on Monday. She also admitted three drugs charges.
She let Wright-Young, 37, use her one bedroom flat in Elmbridge Way as a hideaway between 7 and 16 October last year, West Midlands Police said.
When officers tracked him to the address, they discovered almost £8,000 worth of crack cocaine and heroin and about £500 of cannabis.
Wright-Young and Disharn Downie, 19, from Birmingham, were both given life sentences for shooting Mr Phillips.
Sgt Rob Bastin said: "Samuels tried to help Wright-Young avoid justice by allowing him to stay at her flat.
"While Wright-Young was at large we were unable to bring him to justice which only caused further distress to the family of Kenichi who was aged just 18 at the time he died."