Birmingham prison riot: Inmate sentenced to six years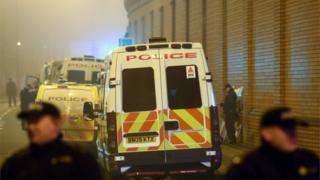 A prisoner involved in a 15-hour riot at HMP Birmingham has been jailed for six years.
Grant Samed, 30, was the last of six men sentenced for their part in the disorder at the privately-run prison in December last year.
They were described in court as the "instigators of the mutiny" who had let other inmates out of their cells.
Samed had admitted a charge of prison mutiny at Birmingham Crown Court.
Cells were left uninhabitable by the trouble which flared at the jail on 16 December.
The riot spread to four wings and 500 prisoners were let out of their cells while prisoners stripped, wielded table legs and threw TVs out of windows.
Photos of two inmates in riot gear were posted on social media during the disorder.
An assessment of the costs by prison operator G4S included £1.7m to refurbish the damaged prison wings and up to £3.5m in loss of earnings.
Sentencing Samed, the Recorder of Birmingham Judge Melbourne Inman QC, said: "This was a sustained mutiny and you, together with the other five, were undoubtedly the instigators of it."
The court heard Samed was angry he had not received medical treatment the night before the riot.
He joined prisoners on the suicide netting on the top level of his wing and sprayed a fire hose while another inmate snatched keys from a senior prison officer's belt.
The father-of-five, who has 64 previous convictions, was in the prison serving a two-year sentence for burglary and attempted arson on a shop, in which prosecutors said he threw a "Molotov cocktail" in an attempt to evade capture.