Birmingham blood cancer centre opens after £3.4m revamp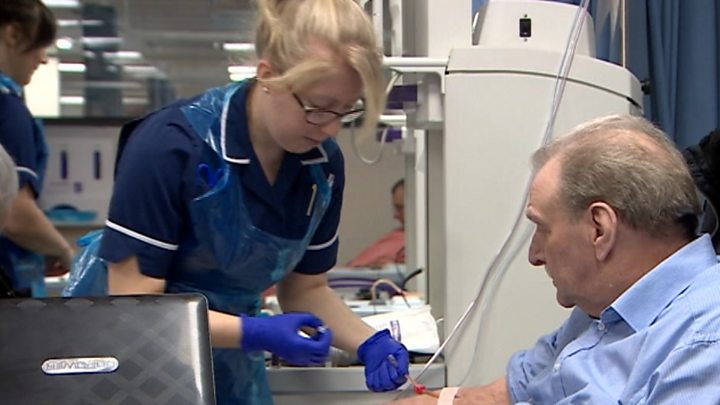 A leukaemia treatment centre has reopened after a £3.4m revamp to serve patients from across the West Midlands.
The Centre for Clinical Haematology in Birmingham has been expanded and refurbished thanks partly to funding from the charity Cure Leukaemia.
The centre said the move would allow it to increase its "world-class clinical trials" in which patients can access drugs not yet available on the NHS.
Those behind it say it will lead the "global fight" against blood cancer.
Run by the University Hospitals Birmingham NHS Foundation Trust (UHB), it is also to create 75 new jobs, with some of the posts already filled.
Set up in 2006, the centre has treated 10,000 patients and run more than 60 clinical trials.
Professor Charlie Craddock, CBE, Director of the centre, said: "It will immediately increase the number of lives saved and will speed the process towards establishing effective treatments for all blood cancers within 25 years."
Former Wolves midfielder, Geoff Thomas has played a key role in fundraising for the new centre. He and three other amateur cyclists rode 10,400km (6,500 miles) last year to raise money for it.
He said: "Rather than spending nights in the hospital, patients will be able to go there be treated as a day patient and go back to the comfort of their own home."
He has been awarded with an honorary doctorate from Birmingham City University for his charity work.
In 2003, the former England player was given three months to live after being diagnosed with leukaemia.