Mylee Billingham case 'intense', police chief says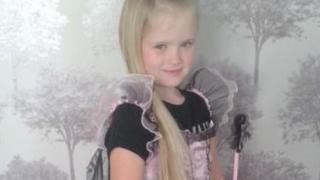 A police chief has described the work of his officers on the night Mylee Billingham was stabbed to death as "intense".
Dave Thompson, Chief Constable of West Midlands Police, said body-camera footage showed the lengths to which his staff went trying to save the girl.
The eight-year-old was found seriously injured in Valley View, Brownhills, near Walsall on Saturday.
A 54-year-old man was arrested on suspicion of attempted murder.
The man, thought to be the girl's father Bill Billingham, has undergone surgery on a stab wound to the stomach.
West Midlands Police said he will be questioned in due course.
Mr Thompson told a strategic crime and policing board meeting on Tuesday of the "high profile, very tragic case".
"While we talk about the value of body cameras in terms of evidential facts, one of the things it does enable us to do is to see graphically and directly the challenges and things our staff have to deal with.
"In this particular case the work that took place... was just so intense and it's just very, very, sad that on this occasion it wasn't able to make a difference."
He told the board: "I would pay tribute to the work that took place on the scene that night by those people because that is simply not the sort of incident that anybody joins the police service to expect to deal with."
The results of a post-mortem examination on Mylee are yet to be released.
The head teacher of St James Primary in Brownhills, where Mylee was a pupil, paid tribute to her on Monday saying her smile "lit up the room".
Detectives said the death was being treated as a domestic incident and were not looking for anyone else in connection with Mylee's death.