Taxi driver used Costa coffee lid as fuel cap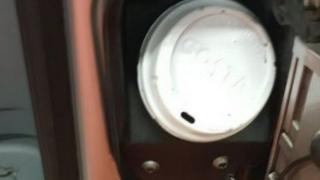 An "irresponsible" taxi driver who used the lid of a Costa coffee cup as a fuel cap has had their Hackney Carriage licence suspended.
The vehicle also had tyres close to the legal limit, its airbag light on and a headlight not working and was immediately taken off the road.
It was stopped during checks by Sandwell Council in the West Midlands.
To fit a coffee cup lid to a fuel filler neck is inexcusable, a Vehicle Standards Agency spokesman said.
Sandwell Council said the vehicle was a danger, as diesel was seeping through the makeshift cover.
The Vehicle Standards Agency inspector, who carried out the checks in January, said he was "shocked" by the discovery.
The breach was referred to Sandwell Council's taxi licensing committee who this week suspended the licence for 24 weeks.
'Potentially very dangerous'
The driver, who cannot be named, will be sent a letter within 14 days and then has a further 21 days to appeal the suspension at magistrates court but will not face criminal proceedings.
Its cabinet member for public health and protection, Councillor Elaine Costigan, said it was a "serious and potentially very dangerous thing to do"
She added: "It's rare to see something quite this irresponsible."