Ten in court over Birmingham bike 'rampage'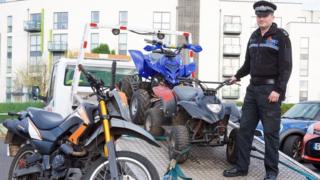 Ten men accused of riding in an illegal bike rally are due in court on Thursday, taking the total number of people charged to 29.
The men, aged between 20 and 33, are charged with causing public nuisance after a "five-hour rampage" through Birmingham and Solihull in June 2016.
In January, also at Birmingham Magistrates Court, 19 others appeared over the gathering.
Of those, police said two pleaded guilty and 17 awaited trial.
The 26 June "Ride Out" event, according to the West Midlands force, saw off-road bikers "run amok" on the region's roads during a "five-hour rampage".
It says bikers have been riding recklessly, pulling stunts and intimidating other road users.
During a Halloween "Ride Out" in 2016, a gang of up to 200 bikers was said to have taken to the streets of Birmingham and Solihull.
A total of 53 suspected "lout bikers", police said, had been arrested over "Ride Outs", including the 29 who had been charged.
The force said it was taking a "tough stance", and in October, officers raided 28 addresses across the West Midlands, seizing 14 off-road bikes.