Jail for £30,000 damage Walsall arsonist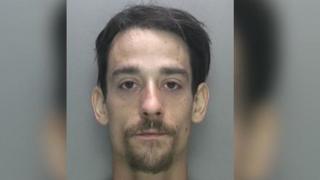 A man who deliberately started two fires causing £30,000 worth of damage has been jailed for six years.
Robert McKenzy, 30, set his sofa and chair on fire in the bedroom of his first floor flat in Walsall last July, before leaving with his dogs and an overnight bag.
He was seen leaving his flat as the fire took hold and was later arrested.
McKenzy was found guilty at Wolverhampton Crown Court and was sentenced to six years in prison.
Residents within the block of flats reported smelling smoke and seeomg it pour out of the windows. The fire service put the fire out estimating about £30,000 of damage was caused.
When McKenzy was arrested, he was found with several lighters, a gas canister, a large sum of cash, spare clothing and dog food.
After pleading not guilty at an earlier hearing, he was found guilty of one count of arson being reckless as to whether life is endangered.
Giovanni D'Alessandro, Senior Crown Prosecutor with West Midlands Crown Prosecution Service said: "The actions of the defendant were extremely dangerous and put the lives of his neighbours at risk.
"The defendant ignored those clear dangers and gave no thought to the fate of his neighbours."