Fans 'let down' by Stereophonics severe weather concert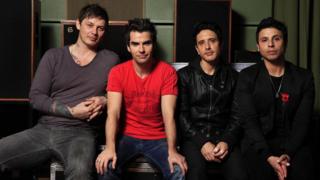 Fans who missed out on a Stereophonics concert due to severe weather brought by the Beast from the East say they have not been properly compensated.
The band played at Birmingham's Genting Arena despite weather warnings on 1 March. The venue and promoter decided the concert would go ahead, a Stereophonics spokesman said.
A Paul Weller gig at the venue was cancelled the next day due to the weather.
In a statement, the spokesman said the Stereophonics were "disappointed" for the fans, but the "overwhelming majority" had been able to attend.
After the concert, the band, from Cwmaman in South Wales, tweeted that fans should "keep their tickets" while it worked with promoters to "address the situation".
A concert at Wembley Stadium in London also went ahead despite weather warnings.
Amanda Cook, from Wolverhampton, spent more than £60 on a ticket she booked six months in advance.
She decided it was unsafe to drive to the concert and said, despite being told to "keep their tickets", there had been no update or refund.
In a statement, Stereophonics' management said the band had secured a discount for fans who could not attend for the Rize festival in Chelmsford, which they are headlining this year.
You may also be interested in
Ms Cook set up a Facebook group for disappointed fans and said she "would never entertain going to a festival 150 miles away from home... especially not to see a much shorter set".
Complaints to the band's management have been "ignored", she said. "Our main concern is getting our hard-earned money back."
The band's management statement said "refunds are not possible when the event takes place".
"Whilst the band enjoyed playing to the overwhelming majority of fans across the shows in Birmingham and London, they are obviously disappointed for any fans that couldn't attend."