HMP Birmingham inmates appear in Periscope live stream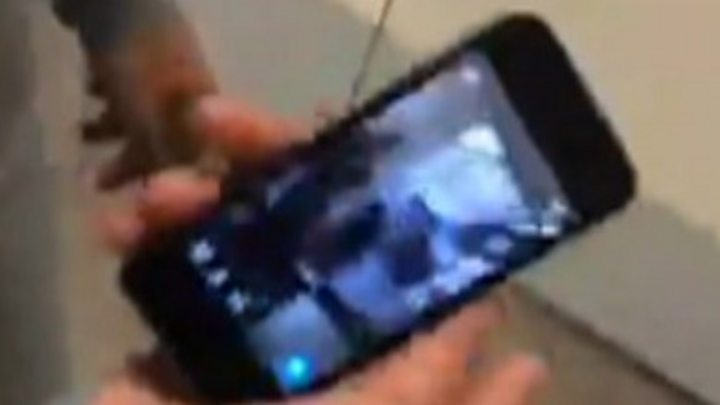 Inmates at a prison live-streamed footage which appeared to show them smoking drugs and using mobile phones.
The clip was shared on Wednesday via live video app, Periscope.
Dozens of inmates at HMP Birmingham referring to themselves as the "slider gang" due to their matching flip-flops, appear in the film.
G4S, which is in charge of the privately-run prison, said the video was "absolutely unacceptable".
Periscope has been contacted for comment.
The 15-minute-long video has amassed 1,400 likes since it was broadcast by a user called Ray.
It shows inmates smoking while listening to the radio in a cell. A barbed wire perimeter fence is revealed through the window.
The footage emerged after a prison inspection in February 2017 which said drugs were still widely available.
It followed an assessment by the Independent Monitoring Board in 2016 that said an "urgent" solution was needed.
Last year, 52% of inmates, compared with 37% in 2014, said it was easy to get drugs at the Category B jail.
Previously, two inmates at the prison were charged and admitted to making and sharing a rap video on social media, filmed from inside the prison in 2015.
In 2016, the prison was the scene of a riot which lasted for more than 12 hours and was spread across four wings.
The film concludes with an inmate pulling a cling-filmed item from his pocket which he describes as a "bit of weed".
Prison director Rob Kellett, said: "This behaviour is absolutely unacceptable.
"Those involved will face disciplinary action and could have time added to their sentence."
He added: "Our staff work tirelessly to detect, intercept and confiscate contraband."
Periscope is an app that lets you stream live video from your handset, or as a viewer, lets you watch streams you like and interact with them live via onscreen chat.
The streams are viewable for 24 hours, but the app can deplete the viewer's mobile data allowance.
Mr Kellett said the prison was working with West Midlands Police to remove the footage from social media.