Paramedics left angry note 'by UPS driver' in Erdington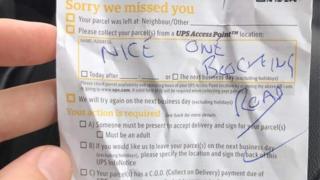 Paramedics attending a 999 call were left an angry note on a UPS delivery slip accusing them of blocking a road.
The West Midlands ambulance crew were returning to their ambulance in Erdington, Birmingham, on Monday when they found the note.
In a tweet, paramedic Simon Wong said a UPS driver left the note after the crew parked on a verge and other cars were parked opposite, blocking the road.
The delivery giant said it was investigating.
The note, written on an unused UPS delivery slip, read: "Nice one. Blocking road."
UPS said: "We are investigating the issue and appropriate actions will be taken to ensure our drivers are aware that any such behaviour will not be tolerated.
"UPS values treating others with respect and understanding at all times."
West Midlands Ambulance Service tweeted its disappointment at what happened.
"In this case, it would appear that the crew had parked appropriately when they arrived, but the situation had developed while they were with the patient," it said.
West Midlands paramedics were left an abusive note while treating a man vomiting blood in Small Heath Birmingham in November.
The anonymous note read: "You may be saving lives but don't park your van in a stupid place and block my drive."