West Yorkshire Metro braced for bus service cuts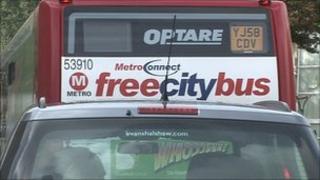 Bus services could be axed and smaller bus stations closed amid looming cuts to public spending, transport chiefs have warned.
Metro, West Yorkshire's passenger transport authority, fears its budget could be cut by 40% and is meeting on Friday to discuss the potential impact.
Councillor Chris Greaves, Metro's chairman, said it was "alarming" that services people rely on could be cut.
He said concessionary fares for young people may also have to be reviewed.
Mr Greaves, a Conservative councillor for Bradford's Wharfedale ward, said a report to Friday's meeting "really brings home what [budget cuts] could mean for people in West Yorkshire".
He said: "It is alarming when you see, written in black and white, that the cuts we might be asked to make could be the equivalent of wiping out the Hebden bridge minibus network, the Bradford, Leeds and Wakefield FreeCity buses and MetroLocal services connecting Kirklees communities with nearby shops and services, or closing smaller bus stations like those in Cleckheaton or Pontefract.
"Or put another way they could mean the reductions in the AccessBus service or withdrawal of as much as 25% of the essential tendered, early-morning, late-night and Sunday bus services that Metro currently subsidises because the bus companies don't consider them profitable enough.
"These are not projects which have not yet been started, but services which people rely upon every day to get to work, shops and vital services such as doctors' surgeries or hospital appointments."
Mr Greaves said he "fully realised" cuts would have to be made in all areas of the public sector and Metro would try to achieve savings in areas other than services.
He pledged that the authority would "look very closely at the impact on the individuals and communities where real cuts to services fall".