Acid burn fears over Newsome cat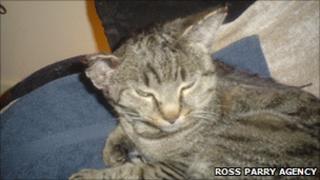 A family pet has suffered suspected acid burns, had its ear damaged and has teeth missing after going missing for three days in West Yorkshire.
Ziya, a six-year-old tabby cat went missing from her King's Mill Lane home in the Newsome area of Huddersfield.
But when she returned three days later fur was missing from her back, part of her right ear was missing and she had teeth dislodged.
West Yorkshire Police are investigating the cause of the cat's injuries.
A West Yorkshire Police spokeswoman said: "The owner took Ziya to the vets who could not suggest how the cat could have come by such injuries naturally.
"It is possible that the cat could have had hot liquid or an acid poured on it."
Officers are appealing for anyone with information about the cat's injuries to contact them on 01484 436724 or to e-mail ea.southnpt@westyorkshire.pnn.police.uk