Keighley centre to help alcoholic mothers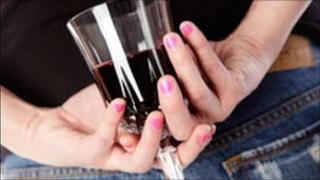 A specialist centre dealing with pregnant women who have problems with alcohol and risk damage to their unborn babies is to open in West Yorkshire.
The centre in Keighley will deal with mothers-to-be whose children are at risk of Foetal Alcohol Syndrome.
Children affected by the syndrome may suffer physical abnormalities and learning and behavioural difficulties.
The charity behind the scheme said demand for the service was increasing.
The scheme, known as the Family Recovery Service, will be based at Temple Street in the town.
A recovering alcoholic mother of two children in Bradford, who is backing the centre, said she was "riddled with guilt and shame" because her daughters had been damaged by her drinking.
She said: "Education-wise they're never going to get any degrees and the best I hope is they can read and write."
The woman said the centre's work in promoting the warning that taking alcohol during pregnancy could be dangerous for the unborn child was vital.
She added: "This could happen to you, you went to a party, you're pregnant, you have a couple of drinks, your baby's born and has foetal alcohol syndrome.
"And you've damaged that baby for the rest of its life."
Mike Cadger, the director of the Project6 charity, which is behind the new service, said pregnant women who had a drug habit could get help.
But this service is aimed specifically at women whose significant dependency was alcohol and may also include drug use.
Expand services
He said: "We have been operating for a while supporting women with drug problems who become pregnant, but this intervention allows us to expand the services we provide to include women who have problems with alcohol use as well.
"The service is full to capacity every year, based on our current capacity, and that's specifically in relation to those women who are using illicit drugs.
"We think the numbers of women, the numbers of families who will be affected will increase exponentially when we include women who have alcohol issues as well.
"There's already a growing demand to access the service that we provide.
"I think women who have alcohol problems in pregnancy, it remains a hidden problem.
"Partly that's because of the social acceptability of the use of alcohol, and as a consequence, the problems that may be present for both the women and the foetuses sometimes are missed."