Bradford boy's death 'not foreseeable' by care agencies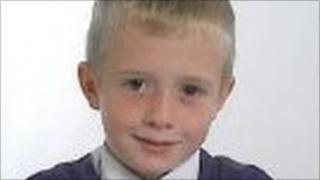 A serious case review has said agencies could not have anticipated a paranoid schizophrenic man would kill his nine-year-old brother.
Jack Taylor died after being stabbed by his brother Daniel Taylor, 21, at a house in Bradford last February.
He was killed just hours after his brother was seen by a psychiatric nurse over concerns about his state of mind.
The review found there was some poor professional practice and inadequate assessment of Taylor's mental state.
In January, the youngster's brother was given an indefinite mental health hospital order for manslaughter.
The review, carried out by Bradford Safeguarding Children Board, stated that Taylor and his siblings had been exposed to domestic violence from a young age.
By 2002 Taylor was using cannabis and had begun to engage in minor offending.
The report noted that in 2009 after assaulting two members of his family, Taylor was detained in a mental health hospital and diagnosed with paranoid schizophrenia.
He was later discharged and monitored in the community.
On 17 February last year, Taylor's family reported to the authorities that his condition was worsening.
The following day he was seen by a community psychiatric nurse and his GP who both pronounced there was no immediate concern about his condition.
Later that day Taylor went on to fatally stab his brother at a house on Rookes Avenue.
The serious case review said: "Previous evidence of the child's brother's propensity to violence could not have led mental health professionals to anticipate the nature of his attack on his younger brother."
But the review also said: "In hindsight it is possible to identify and collate risk factors associated with the child's brother's mental illness and his presence in the family home.
"There seems to be little doubt that known risk factors on his discharge from hospital should have alerted professionals to the probability that his psychotic illness and lifestyle would present a significant risk of harm to members of his family.
"This serious case review has identified failures in professional practice that might have better identified these risks and more effectively instituted arrangements to ameliorate/manage them."