Kirklees planner's developer links inquiry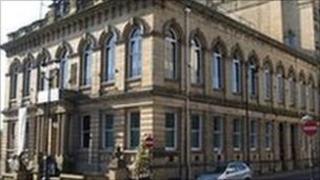 A West Yorkshire council is investigating after its senior planning official admitted links to a major property developer.
Hamish Gledhill, acting principal planning officer at Kirklees Council, has also been working with Princegate Estates since 2006, it has emerged.
Mr Gledhill said the developers have no land or interests in the area.
Huddersfield MP Barry Sheerman has called for a police inquiry into the running of the planning department.
Mr Gledhill started working for the council in 2005.
'Never received payment'
In 2006 he took the role at Princegates Estates, but did not register it with the council until January this year and the authority said it has not been approved.
A spokesman for Kirklees Council said: "We are aware of the connection between our employee and this company.
"The matter is now being investigated, so it would be inappropriate to comment further at this stage.
"However, Princegate Estates have stated they have made no effort to work in Kirklees and have made no land acquisitions in the district."
Mr Gledhill has been withdrawn from some of his duties pending an inquiry.
He was working on the Local Development Framework, which has caused controversy over plans to develop up to 28,000 new homes over the next two decades.
'Wider flaws'
He said: "I have never acted on behalf of Princegate Estates within the Kirklees area.
"Furthermore, Princegate Estates have confirmed to me that they have not taken any interests in any land within Kirklees.
"I have never been employed by Princegate Estates and I have never received any payment of any kind from them."
Mr Gledhill added that his connection with the developer, which specialises in land redevelopment and house building, had ceased by March 2008.
Mr Sheerman said the investigation highlighted wider flaws with the planning department.
He said: "I was writing to the chief constable and had written to the Secretary of State for Communities and Local Government before this.
"What I want to know is has our planning department been working properly over this number of years.
"I believe there should be a full inquiry."