Racy novel teacher loses unfair dismissal claim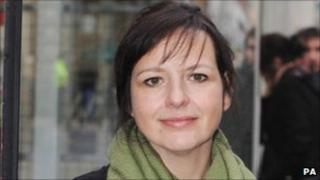 A teacher who was sacked after she wrote a racy novel about her pupils has lost her unfair dismissal claim.
Leonora Rustamova, 41, was sacked from Calder High School in West Yorkshire in 2009 after the novel appeared on a self-publishing website.
The story, which described teenage fantasies, named several teachers and featured year 11 pupils.
She claimed unfair dismissal but was informed on Friday that the tribunal had dismissed her claim.
Mrs Rustamova, known as Miss Rusty to her pupils, lost her job after her story detailed teenage fantasies, violence and a criminal drug den.
Pupils' campaign
The novel - Stop! Don't Read This! - is peppered with expletives, names several teachers and features five Year 11 pupils - all real students and referred to as Miss Rusty's favourites.
One pupil is referred to as flirting with Mrs Rustamova, who lives in Huddersfield, West Yorkshire.
Her sacking from the school near Hebden Bridge prompted demonstrations by pupils and a campaign by parents to have her reinstated.
Mrs Rustamova taught for more than 11 years before she lost her job in May 2009.
'Unfortunate mistake'
In a statement presented to the hearing, she outlined her difficulties with a group of boys she described as "the most difficult and unteachable group one could come across".
She decided to write the controversial tale as a way of engaging with the youngsters, the hearing was told.
Mrs Rustamova said the decision to publish the story on the internet was an "unfortunate mistake".
Jean Bradbury, vice chair of governors at the school, told the hearing: "The book brought the school into disrepute, in large part because the book was available in the public arena and the fact the school was named."