Huddersfield league's tribute to player Huw Thatcher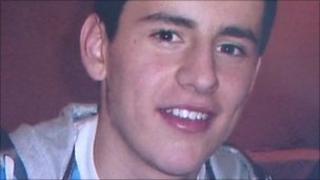 Thousands of junior footballers in West Yorkshire have held a minute's silence in memory of a teenager who died after collapsing during a match.
Huw Thatcher was playing for Hepworth United Juniors in a game in Brighouse last Sunday when he collapsed.
The Holmfirth High School pupil was taken to hospital but died from a brain aneurysm, a coroner said.
All Sunday matches in the Huddersfield Junior League were asked to observe the silent tribute.
Speaking last week, team coach and family friend Nigel Bowers said he was "just a great guy, he'll be tremendously missed".
He added: "Huw was a larger-than-life lad, really popular with all his teammates and classmates."
"He always had a smile, he was a bit of a joker but never had a bad word for anybody and was liked by everybody."
The youngster's club said people could view the many messages, shirts, footballs and tributes paid to Huw which would be on display at the Picturedome in Holmfirth between 1500 GMT and 1830 GMT on 23 and 24 March.