Racy online novel teacher 'surprised' at losing job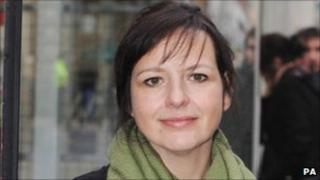 A teacher who was sacked for writing a racy novel about her pupils said she never meant to cause offence and was surprised at the loss of her job.
Leonora Rustamova, 41, was sacked from Calder High School in West Yorkshire in 2009 after the novel appeared on a publishing website.
The story, which described teenage fantasies, named several teachers and featured year 11 pupils.
Ms Rustamova said she did not realise her career had been in danger.
Classroom project
The novel, Stop! Don't Read This!, contains expletives, names several teachers and features five year 11 pupils - all real students and referred to as Miss Rusty's favourites.
One pupil is referred to as flirting with Mrs Rustamova, who lives in Huddersfield, West Yorkshire.
Her sacking from the school near Hebden Bridge prompted demonstrations by pupils and a campaign by parents to have her reinstated.
Ms Rustamova said the book had started as a classroom project and was never intended to be published online.
She said: "I never actually made a decision to write a book, it's just something that gradually evolved from trying various different methods to engage these boys (pupils) in literacy.
"They weren't interested in reading anything and I tried all manner of things.
"The first time they sat down to read was when I had written down physical descriptions of boys in the class without names and got them to guess who was who."
'Career danger'
Ms Rustamova said writing the book had had unforeseen consequences.
The novel appeared online after she had sent the text to a publisher in order to get hard bound copies for her and her students.
She said: "It was a classroom project and was never intended to be published [publicly online].
"There was never actually a rational moment when I realised my career was in danger," she said.
"It was written in the idiom of teenage boys, so it involved their style of language, the sort of things they find entertaining.
"The idea of what bad boys are like, truancy and all that sort of thing were all involved, swearing and that kind of thing."