Funeral for teenage footballer Huw Thatcher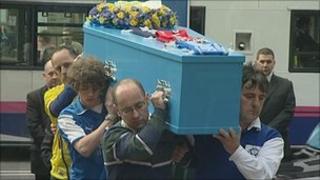 The funeral for a teenage footballer has taken place after he collapsed and died following a match in West Yorkshire.
Huw Thatcher, 15, from Holmfirth, was playing for Hepworth United in Brighouse on 13 March when he collapsed.
The Holmfirth High School pupil was taken to hospital but died from a brain aneurysm, the coroner ruled.
The funeral took place at Holmfirth Parish Church at 1330 GMT.
All Sunday matches in the Huddersfield Junior League observed a minute's silence before their games the following Sunday.
Huw's team coach and family friend Nigel Bowers said the teenager was "just a great guy".
"Huw was a larger-than-life lad, really popular with all his teammates and classmates.
"He always had a smile, he was a bit of a joker but never had a bad word for anybody and was liked by everybody."