Beshenivsky killer Mustaf Jama loses appeal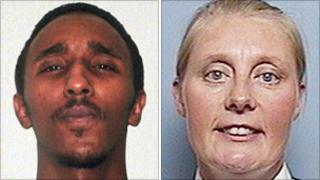 A man who murdered a Bradford policewoman during a bungled robbery has lost an appeal against his conviction.
Mustaf Jama was part of a gang that shot Pc Sharon Beshenivsky in Bradford on 18 November 2005.
Three judges in London's Court of Appeal said there was no basis for Jama's application.
He was sentenced to life in 2009 and told he would serve at least 35 years for the murder of the mother-of-three.
'Brave officers'
Jama who fled to and was arrested in Somalia, was appealing against his conviction due to the circumstances in which he was arrested and brought back to the UK.
Rejecting his bid, Lord Justice Moses said the application arose out of a notorious murder when the gang was confronted by two brave officers.
Pc Beshenivsky, 38, had been a serving constable for nine months when she was killed after responding to an alarm call at a travel agency in Morley Street.
She left behind her husband Paul, three children and two stepchildren.
Pc Beshenivsky's colleague Pc Teresa Milburn was wounded by the gang, who escaped with little more than £5,000.
Jama, who had denied murder, was convicted after a retrial at Newcastle Crown Court.
He did not fire the fatal shot, but the prosecution at his trial said he was "as much guilty of murder" as the gunman.
Five other men have also been convicted in connection with the officer's death, including Jama's younger brother Yusuf and gang boss Muzzaker Shah, who is thought to have fired the shot which killed Pc Beshenivsky.