Kingfisher family seen learning to fish near Castleford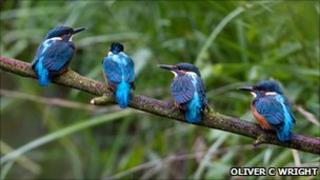 A family of kingfishers have been seen seen teaching their young how to fish at an RSPB site in West Yorkshire.
The three young kingfishers and their parents were seen at RSPB Fairburn Ings, Castleford.
The RSPB said it was "great" to see the family as there had been concerns that they did not have enough food to survive the harsh winter.
Kingfishers are usually seen flying low over slow moving or still water and diving for fish.
Laura Bentley, from RSPB Fairburn Ings said: "In the cold harsh winter our lakes and ponds were frozen solid for months so we were very worried for our kingfishers not being able to get enough food.
"Most people would be lucky to see one kingfisher in their lifetime, let alone five all together.
"But seeing a whole, healthy looking family is a great sign."