Arsonists set fire to 12 gardens in Sowerby Bridge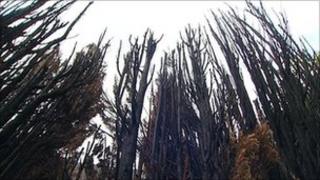 Arsonists are being sought by police after 12 gardens were set alight in a West Yorkshire town.
Residents of Sowerby Bridge near Halifax have been reporting to police that their trees and hedges have been set alight since the beginning of May.
The fire service said the fires had been started in close proximity to homes and it was "only be a matter of time before someone gets hurt".
The police are carrying out door-to-door inquiries and regular patrols.
'Rare' incident
Neither the police or the fire service could confirm whether specific species of plant or tree was being targeted.
Karina Gonzalez of West Yorkshire Fire and Rescue Service said: "On each occasion, these fires have been attended by firefighters, taking them away from incidents that could save lives."
Insp Dave Browning said: "We are working closely with the fire service and other partners to stop these fires from happening.
"A series of fires such as these are very rare, especially in a small community such as this."