Posthumous Military Crosses for rescue bid soldiers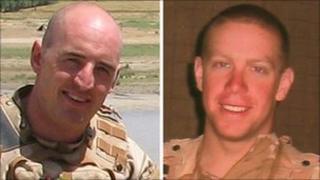 Posthumous Military Crosses have been presented to the families of two soldiers who died as they tried to rescue a comrade in Afghanistan.
The third highest award for gallantry was conferred on Cpl Matthew Stenton, 23, from Wakefield, Yorkshire and L/Cpl Stephen Monkhouse, 28, from Greenock in Inverclyde.
They came under fire in Helmand while trying to rescue an injured colleague.
The presentations were made at a private ceremony at Buckingham Palace.
Cpl Stenton's father Michael, from Bridlington, East Yorkshire, received the Military Cross (MC) on his behalf.
Mr Stenton said: "It's a real honour to receive this medal from Her Majesty on behalf of Matthew.
"But this isn't just for him, it's for all the lads in the Royal Dragoon guards. They're all heroes."
His wife Gillian said: "It's been a real rollercoaster of a day.
"Matthew would have loved to have been here."
The MC conferred on the late L/Cpl Monkhouse, of the 1st Battalion Scots Guards, was presented to his father, William Monkhouse.
The ceremony was also attended by L/Cpl Monkhouse's three-year-old son Brandon.
Mr Monkhouse said: "We had the ceremony filmed so that we can show Brandon when he's older.
"It's such a special occasion.
"The medal belongs to Brandon now."
The soldiers came under fire in the Lashkar Gah district of Helmand in July.
Cpl Stenton manoeuvred a Viking armoured vehicle to remove a wounded soldier, while L/Cpl Monkhouse, the gunner of a Coyote vehicle, provided support.
The two were killed in the gunfire.