Bradford soldier's insurgent fears were 'laughed off'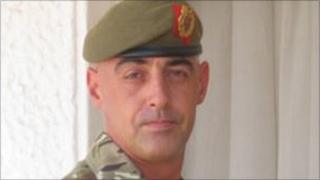 The widow of a Bradford soldier killed in Afghanistan said her husband raised fears about insurgent activity days before his death but was "laughed off".
Wendy Rayner was giving evidence at the inquest into the death of Sgt Peter Rayner, 34.
He was killed by an improvised explosive device (IED) on 8 October.
Mrs Rayner said her husband had rung days before saying he had watched insurgents laying devices but his concerns were dismissed by a captain.
She said her husband and his men had seen the activities through night-vision goggles but were not allowed to fire on the insurgents.
She said Sgt Rayner, of 2nd Battalion The Duke of Lancaster's Regiment, seemed stressed and feared "one of them would be killed".
Mrs Rayner said her husband - who was widely respected and had 17 years of experience in the army - said he had told a captain about his concerns but "he was basically laughed off and told to do his job".
'Fobbed off'
She told the hearing about her and her husband's frustrations.
"They are not allowed to fire on these terrorists.
"If they can see people leaving these IEDs, why can't they take them out?"
Acting Bradford coroner Paul Marks asked Mrs Rayner if she wanted the inquest adjourned so other soldiers could be questioned about the matters she had raised.
She told the hearing she did not want this because she accepted nothing could have been done once her husband had gone out on patrol.
Asked if she had tried to raise the issues with the army, Mrs Rayner said: "I feel like I was fobbed off."
She added: "I feel that they have let him down to a degree."
The coroner recorded a verdict that Sgt Rayner, a father-of-one, was unlawfully killed on active service.