Sixty arrests in Bradford over guns and drugs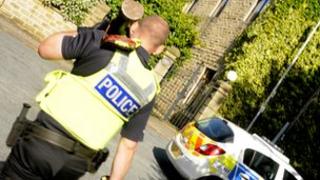 Sixty arrests have been made over gun and drug-related crime in Bradford in the past two weeks.
Two sawn-off shotguns, a home-made stun gun and 94 rounds of ammunition were also seized in Operation Sabredale, said West Yorkshire Police.
Class A and B drugs with an estimated value of £438,000 were also recovered along with £176,000 in cash.
Officers found a suspected counterfeit credit card factory and seized 58 cars, many untaxed or unlicensed.
Mohammed Rabnawaz, 25, of Devonshire Terrace, Manningham, appeared at Bradford Crown Court on Friday in connection with the seizure of the two sawn-off shotguns and rounds of ammunition.
He has been charged with possession of firearms and ammunition and remanded in custody to await trial.
The home-made stun gun was found at an address in Heaton, where a Mercedes and a £60,000 Nissan GTR were also seized.
Officers also uncovered the suspected counterfeit credit card factory at an address in Odsal, where drugs were also found.
Two men were arrested in connection with that and charged to appear before magistrates, police said.